Bitcoin Diamond Hands: How Long-Term Holders Are Driving the Market
Bitcoin has been on a roller coaster ride in 2023, reaching the high of $32,000 in July after the crash to $15k back in the end of 2022. Despite the volatility, a large portion of the bitcoin supply has remained in the hands of long-term holders, or "Bitcoin diamond hands", who have not sold their coins for more than a year.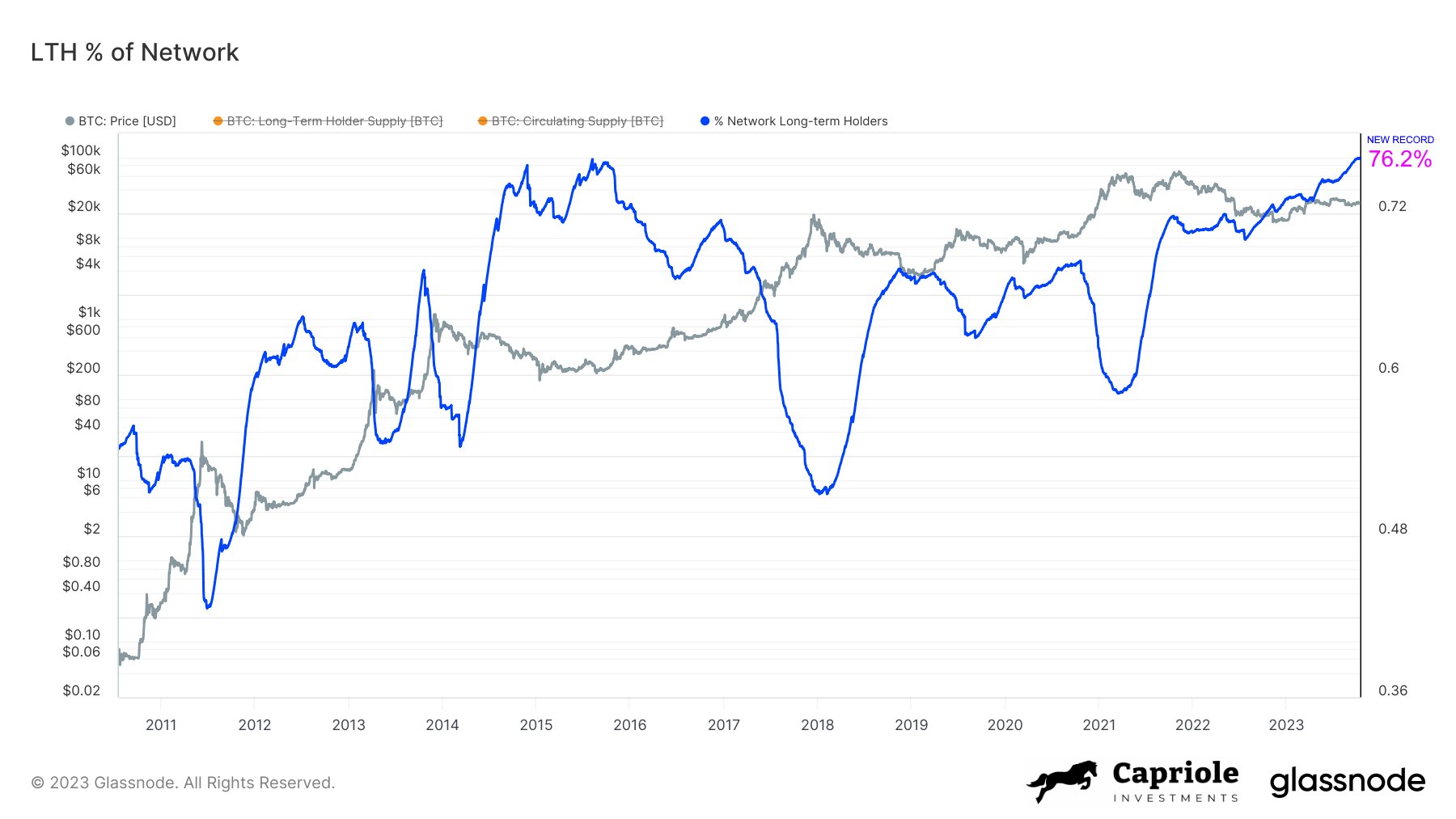 According to data from Glassnode, a blockchain analytics firm, 76.2% of the bitcoin supply was held by long-term holders as of October 18, 2023. This is a new record high, surpassing the previous peak of 75.9% in May 2016. The data also shows that the number of short-term holders, or "weak hands", who have held their coins for less than a year, has decreased to 23.8%, the lowest level since December 2017.
What does this mean for the bitcoin market? According to Glassnode, long-term holders tend to have a lower propensity to sell their coins, as they have either accumulated them at lower prices or have a strong conviction in the long-term value of bitcoin. This reduces the selling pressure on the market and creates a more stable and resilient network.
On the other hand, short-term holders tend to be more influenced by price movements and market sentiment, and are more likely to sell their coins when the price drops or when they see an opportunity to take profits. This increases the volatility and unpredictability of the market and creates more risk for investors.
Therefore, the high ratio of long-term holders to short-term holders indicates that the bitcoin market is dominated by more experienced and confident investors who are not easily shaken by price fluctuations. This could also signal that the market is in a phase of accumulation and consolidation, as new buyers enter the market and existing holders increase their holdings.
Glassnode also notes that long-term holders tend to act as a source of liquidity during bull markets, as they sell some of their coins to realize profits or rebalance their portfolios. This creates a healthy cycle of supply and demand that drives the price higher. However, this also means that long-term holders could become a source of selling pressure during bear markets, as they seek to preserve their wealth or exit the market.
Therefore, it is important to monitor the behavior and sentiment of long-term holders, as they have a significant impact on the direction and momentum of the bitcoin market. As Glassnode concludes, "long-term holders are the backbone of Bitcoin's monetary network."