Bitcoin (BTC) Crushes Traditional Finance in 2023 with 80% ROI
Bitcoin (BTC) has been the best-performing asset in 2023, beating traditional finance products by a wide margin. The cryptocurrency has shown remarkable resilience and growth, despite the economic challenges and uncertainties caused by the banking crisis, inflation, and interest rate hikes.
According to data from CryptoRank, BTC's return on investment (ROI) in 2023 was 79.7%, far exceeding the average ROI of five major stock indexes, which was 5.5%. Among the indexes, NASDAQ Composite (IXIC) had the highest ROI of 17.39%, followed by S&P 500 (SPX) at 6.36%. The other three indexes, US Small Cap 2000 (RUT), FTSE 100 (FTSE), and Dow Jones Industrial Average (DJI), had ROIs of 2.51%, 0.99%, and 0.56%, respectively.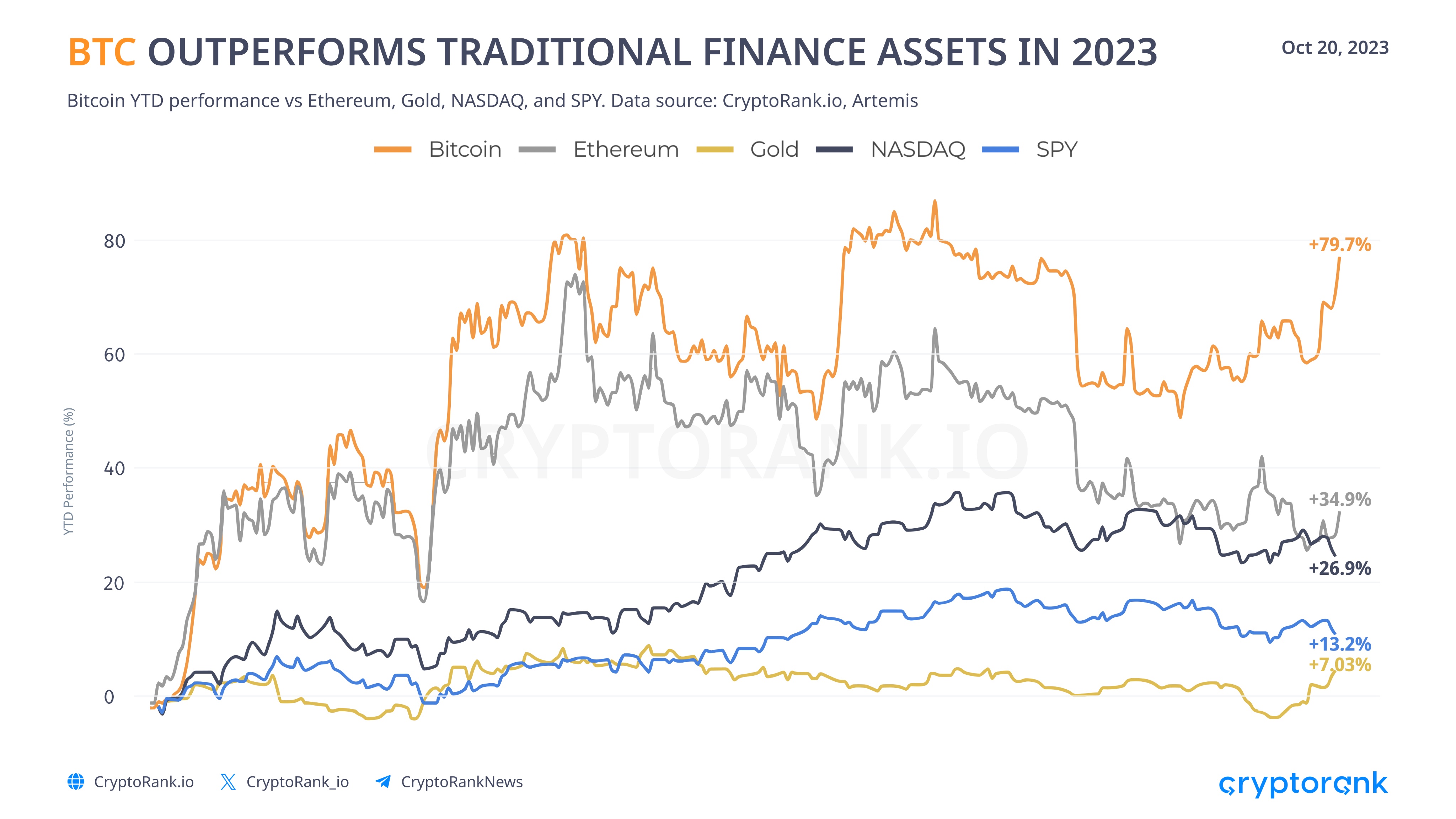 Bitcoin also outperformed its closest rival in the cryptocurrency space, Ethereum (ETH), which had a ROI of 34.9% in 2023. Both cryptocurrencies have benefited from the increasing adoption and innovation in the decentralized finance (DeFi) sector, which offers alternative financial services without intermediaries.
The banking crisis, which resulted in the collapse of several major banks such as Silvergate Bank, Silicon Valley Bank, and Signature Bank, has highlighted the advantages of Bitcoin over the traditional monetary system. Bitcoin's limited supply, decentralization, and censorship-resistance make it an attractive hedge against inflation and central bank policies that erode the value of fiat currencies.
Bitcoin's performance in 2023 also reflects its growing acceptance and recognition by institutional investors, who see it as a viable store of value and a diversification tool for their portfolios. Some of the prominent figures in the finance industry, such as Larry Fink, CEO of BlackRock Inc., have expressed their interest and optimism about Bitcoin and its potential to transform the future of money.
Bitcoin's dominance over the cryptocurrency market has also increased in 2023, reaching a yearly high of 52.77% as of October 20. This indicates that Bitcoin is still the most trusted and valued cryptocurrency among investors, despite the emergence of new and innovative projects in the space.
Bitcoin's impressive performance in 2023 suggests that it is entering a new bull market cycle, driven by strong fundamentals, growing demand, and positive sentiment. However, investors should also be aware of the risks and volatility inherent in the cryptocurrency market, and exercise caution and due diligence before making any investment decisions.