How blockchain is growing faster than ever, according to Bloomberg analyst
Blockchain technology is on track to reach 100 million daily users by 2028, based on the current rate of adoption, says Bloomberg Intelligence analyst Jamie Coutts from Bloomberg. He shared his projections on X (formerly Twitter), where he highlighted the steady growth of blockchain adoption regardless of market cycles.
Coutts said that blockchain is one of the largest structural trends of the next decade, and not having exposure to it could be costly. He cited data showing that daily active addresses on blockchain networks surpassed five million in the third quarter of 2023, up 14% from 2022. The quarterly growth rate has averaged 29% since 2019.
"If we apply a more moderate 20% QoQ growth rate then we could reach 100 million daily users by 2028," he estimated.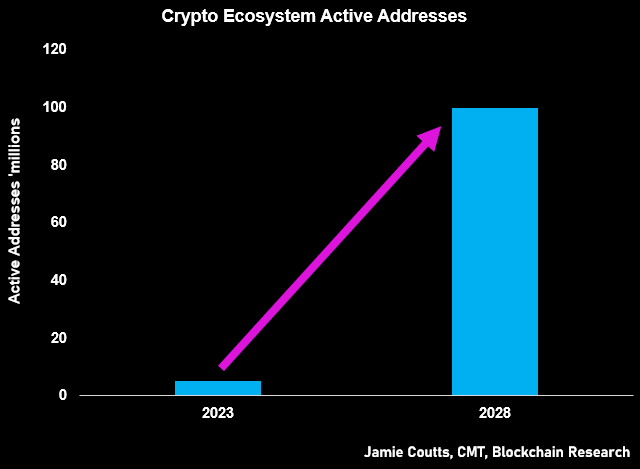 Coutts compared blockchain adoption with PayPal's growth, noting that it took the online payment giant 13 years to reach 100 million daily users. He suggested that blockchain could achieve a similar level of adoption in the same time frame, starting from 2015 when Ethereum launched as the first smart contract platform.
Coutts also projected that the blockchain ecosystem could be valued between $5 trillion to $14 trillion once it reaches 100 million users, up from $350 billion today. He used basic regressions to illustrate the relationship between users and prices, and predicted that some assets would see significant price appreciation as adoption continues.
Coutts' analysis is consistent with other indicators of sustained interest in blockchain technology. Despite the market downturn, development activity in the crypto industry rose 5% in 2022. Moreover, a survey by Celent in 2022 revealed that 91% of institutional investors are interested in investing in tokenized assets, which are blockchain-based representations of physical and digital assets.
"While overly simplistic extrapolations such as this should never be solely relied on for valuation purposes, the exercise illustrates that users and prices are inextricably linked and that as adoption continues, prices are likely to track much higher for some assets," Coutts concluded.