Bitcoin ETF Approval Could Spark the Biggest Bull Run Ever, Says Crypto Analyst
Bitcoin (BTC) has reached its highest price in 18 months, surpassing $37,000, amid growing hopes that the first spot Bitcoin Exchange-Traded Fund (ETF) will be approved soon. This rally could be the start of a major bull run, according to historical data.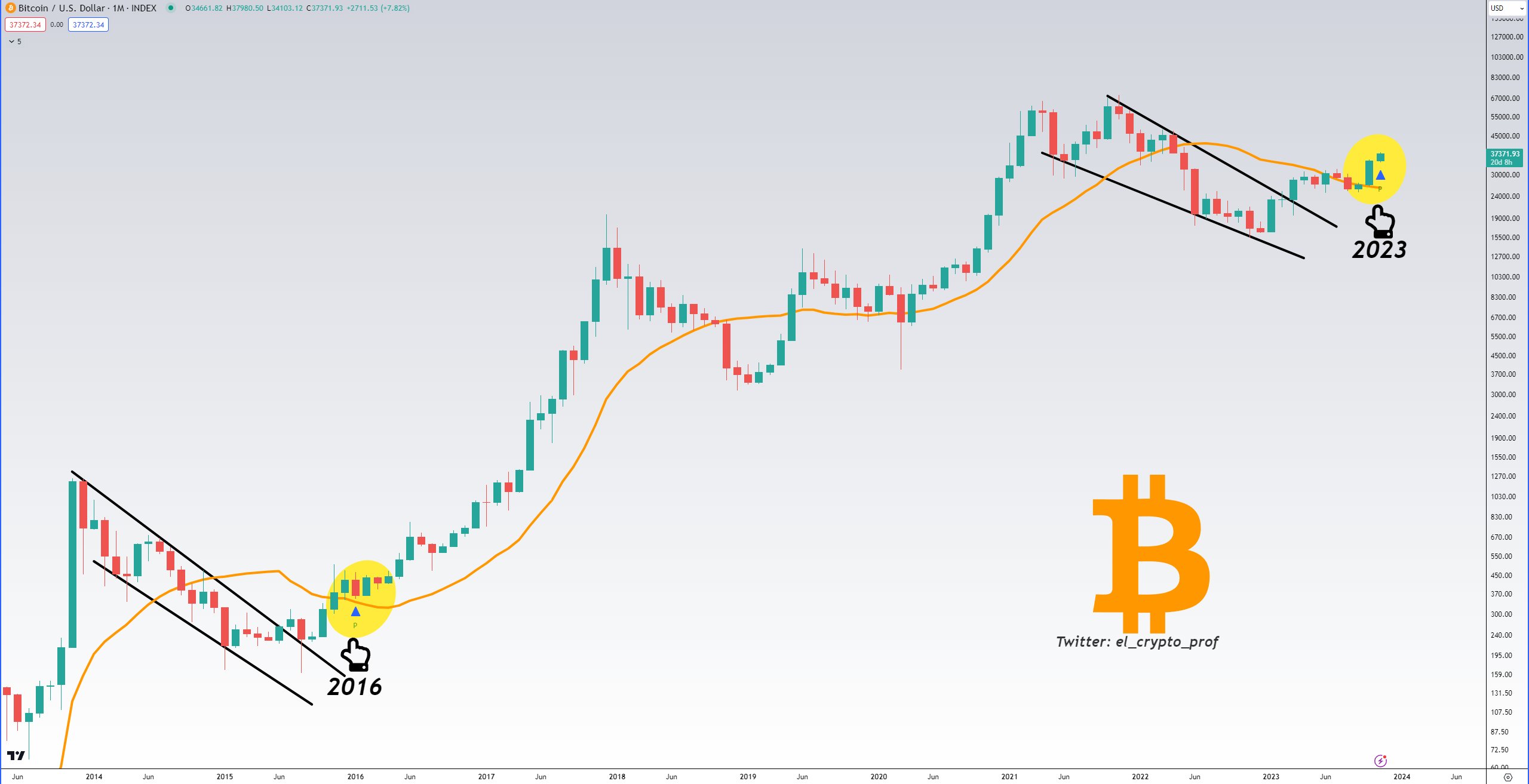 A pseudonymous crypto analyst, el_crypto_prof, posted on X (formerly Twitter) on November 10 that Bitcoin is showing a rare buy signal on the M-Chart, which only happened once before, eight years ago. He also noted that Bitcoin has broken above the SMA 20 line, a significant milestone.
He claimed that these indicators, along with the entry of institutions into the market, could lead to "the biggest bull run ever" for Bitcoin. Bitcoin is looking for a new record high as regulators weigh ETF proposals
The current surge in Bitcoin's price is remarkable, as it is driven by the anticipation of 12 Bitcoin ETF spots that could be approved by the U.S. Securities and Exchange Commission (SEC) by November 17. Bloomberg ETF analysts James Seyffart and Eric Balchunas said that several prominent U.S. fund managers have applied for these offerings, with BlackRock (NYSE: BLK), the world's largest investment firm, being the most awaited one.
However, some crypto market participants argue that an ETF approval does not guarantee a subsequent Bitcoin rally. Meanwhile, Bitcoin holders are also enjoying high profits like Micheal Saylor.